Posted on: May 2, 2023, 02:55h. 
Last updated on: May 2, 2023, 07:07h.
Legends Casino Hotel was placed in lockdown for more than three hours Monday night into Tuesday morning after authorities spotted an armed man in a car parked at the Toppenish, Wash. gaming property.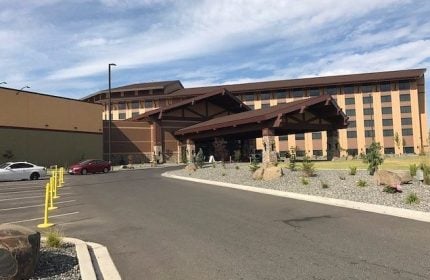 The suspect, later identified as Juan Carlos Sandoval, 37, who is a transient, was asleep in the car. A firearm was on his lap.
Yakama Nation Tribal Police arrived at the casino's parking lot at about 10:30 p.m. and woke Sandoval up. Police tried to talk to him, but he refused to exit the vehicle.
Sandoval then grabbed the firearm and pointed it at his head with his finger on the trigger, according to the Yakima Herald-Republic, a local newspaper.
In an effort to curry favor with him, deputies and officers allowed him to speak to his relatives over the phone. The officers also provided him with some items he requested.
Armed Negotiation
Officers from other nearby Washington State departments soon arrived, including specially trained negotiators from the Yakima Police Department.
Given that Sandoval had a gun, Legends Casino was put into lockdown. Police were able to get him to unload his firearm at around 2 a.m., but he still refused to exit the vehicle.
When he eventually left the car, a Yakima police dog, "Zorro," was let loose to subdue Sandoval. Officers fired nonlethal ammunition at him, as well. He suffered non-life-threatening injuries as a result.
After his arrest, Sandoval was transported to MultiCare Yakima Memorial Hospital for examination and treatment. Upon his release, he was booked at the Yakima County Jail on first-degree unlawful possession of a firearm and resisting arrest charges, according to an online news site, YaktrinNews.com.
Pending Warrants
Officers checked Sandoval's criminal background and discovered prior warrants in his name for robbery and assault charges in connection with a recent armed carjacking.
He's also expected to be charged for failing to register as a sex offender and violation of probation, according to the Herald-Republic.
Sandoval is scheduled to appear in Yakima County Superior Court on Tuesday afternoon.