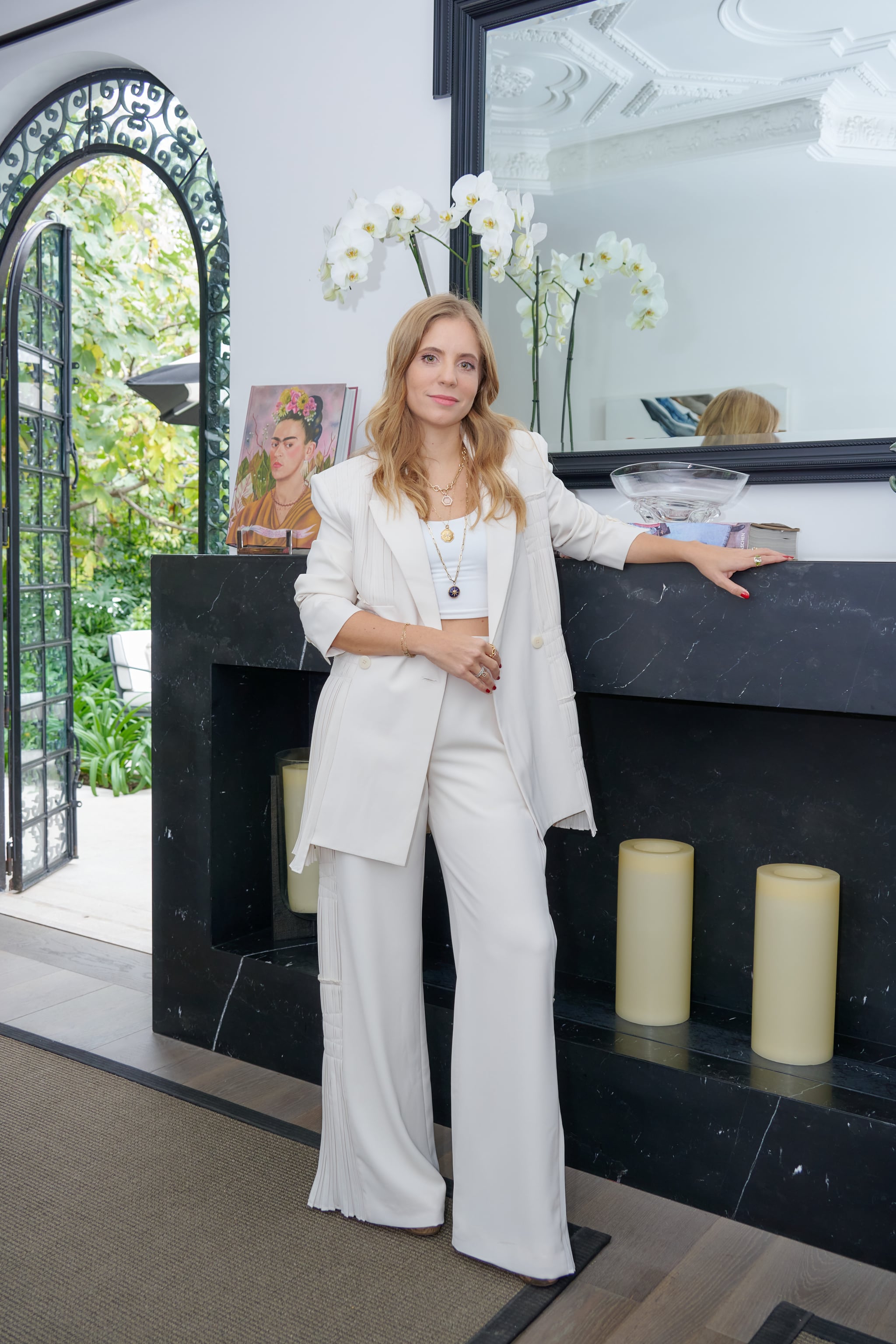 If diamonds are a girl's best friend, then Geraldine Saucedo is the lady in the biz whose friend you want to be. The New York-based fine jewelry expert, designer, and founder of Intemporel (which means timeless in French) not only knows how to expertly create a diamond fiesta and personalized treasures, but she does it all while dividing her time between her business and her family as a wife and mother of two little ones. "It's definitely one of the biggest challenges about working full time," she tells POPSUGAR. "I try to manage my time proactively, so that I can be as efficient as possible. I also try to focus on one thing at a time. My job requires extreme attention to detail, so I strive to be focused while I am at work."
Since launching in 2019, Saucedo has focused on sourcing diamonds and gems to create classic and statement fine jewelry pieces meant to last a lifetime. Some of her signature creations include the Classic Tennis Bracelet ($2,475), the Initial Ring ($975), Zodiac Ring ($2,150), and the Esclava Bracelet ($3,000). "Ever since I can remember I have had a passion for fine jewelry. The more I learned about this industry, the more I fell head over heels for its complexity — the intricate details that make fine jewelry what it is, the challenge of hunting down the best deals for the highest quality pieces, and the daily ritual of working closely with individuals to select that timeless or sentimental piece of jewelry," she says.
Saucedo was born and raised in Venezuela, but was fortunate to have a diverse background. Her mother is half French and half German. Growing up, Saucedo had the opportunity to spend periods of time in Europe, especially in Paris. In 2012 she moved to New York City and worked toward her Master's at NYU. Prior to her entrepreneurial journey, she worked in marketing and merchandising for luxury retailers including 1stDibs, Gilt, and Swoonery.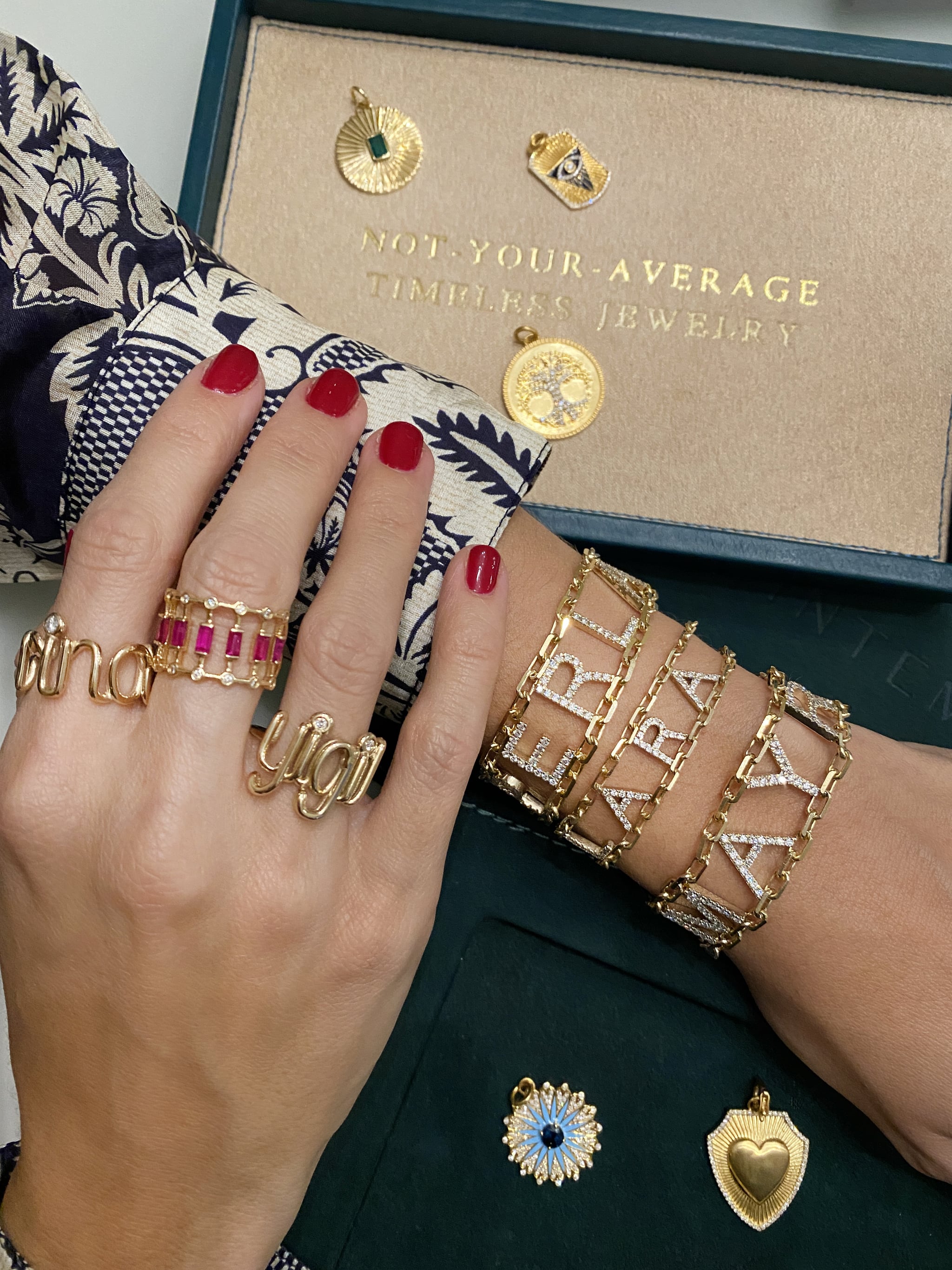 "I'm especially proud of my work at Swoonery, where I was able to develop the brand portfolio from zero to eighty brands. Along the way, I got to meet talented designers, [visit] showrooms, and really developed an understanding of the space," Saucedo says. "After a while, I had a vision and had learned enough to give it a try. That's when I decided to launch Intemporel." This was also after having given birth to her firstborn son, Santiago.
But even though juggling her family and business often feels a bit hectic at times, Saucedo wouldn't have it any other way. Furthermore, the jewelry designer has now caught the eye of one of the world's biggest pop stars who now wears one of her signature designs — Dua Lipa. The English singer and songwriter was given one of Saucedo's designs known as the Chunky Wire Ring With Side Stones ($900) and photos prove she wears it repetitively. "She wears it all the time. Her ring is actually a multi-faceted piece that can be used more or less formally and she gets it! I loved that she wore it for Jacquemus's wedding, but also more casually during her days at the beach in Ibiza," explains Saucedo. "A fellow Venezuelan friend gifted it to Dua [Lipa] for her birthday. We created it in white gold, enhancing it with diamonds on each side. It has become a bestseller since then!"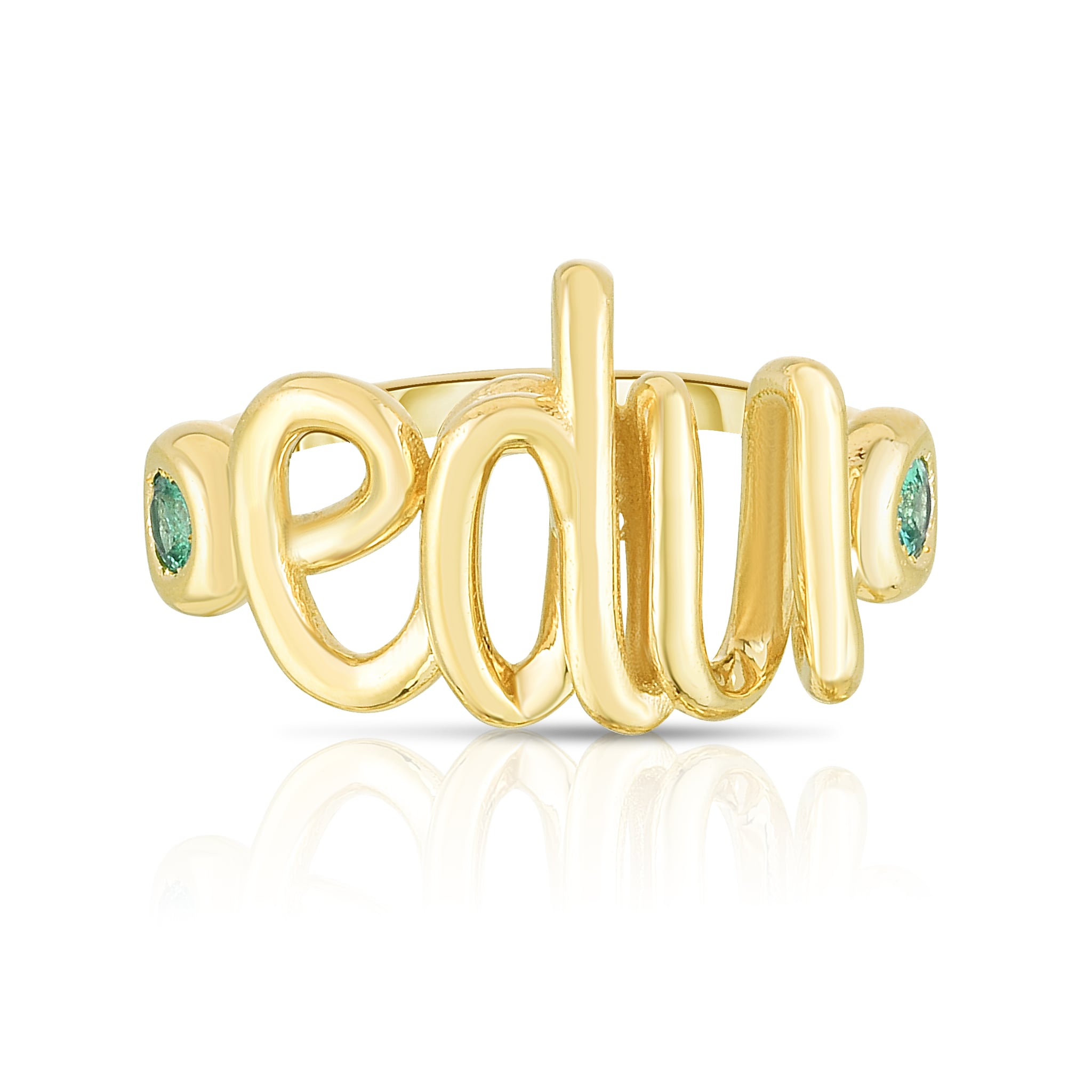 Needless to say having the "One Kiss" singer wear one of your designs makes for a major "Look ma', I made it," moment, but that feeling intensified for Saucedo, who happens to be a great admirer of the artist. "Dua is an artist that I greatly admire and follow, not only because I love her music, but also because of her style. She represents the Intemporel woman: confident about her unique style, a jewelry lover who knows what she likes, and actually wears her jewelry in many different ways for different occasions," she explains. "Knowing that she has (and frequently wears) an Intemporel piece makes me feel proud, excited and motivated to continue my work. I am also a big fan of her podcast. If you haven't listened, I strongly recommend it."
Another proud moment for Intemporel's founder has been the launch of her brand in Mexico City. "We are so excited about this! I was pleasantly surprised by Mexico City — it has so much to offer. [A] vibrant community and sophisticated fashion scene. It's a beautiful city all around, and of course, amazing food," she says. Going international called for a grand celebration in which Saucedo cohosted a brunch at Casa Polanco alongside the cofounder of the Latin America Fashion Summit, Samantha Tams.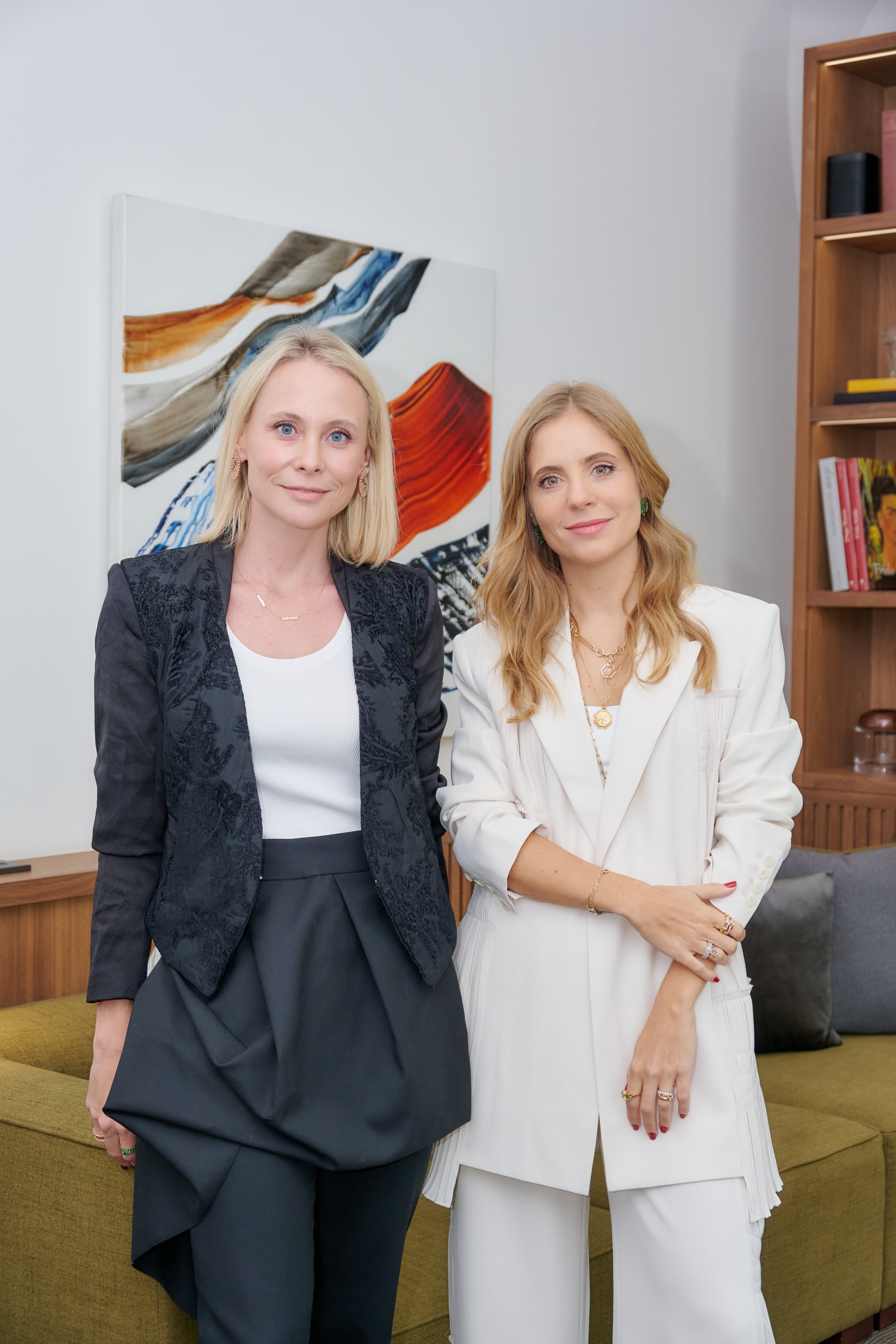 "We invited a group of amazing influential women and I had a unique opportunity to present the Intemporel experience," she says. Among those women was Vogue México y Latinoamérica's Editor in Chief, Karla Martinez de Salas, Andrea Leret, founder of fine cashmere label Leret Leret, and Maria Torres Clausell, Editor in Chief of QUIÉN magazine. "During the week, I also joined forces with my amazing friend and stylist Gabriela Ehrenberg to attend the iconic Bazar Gilberto to sell a curated selection of Intemporel pieces. The launch was a big success and I look forward to continuing growing in Mexico for many years to come."
And in case you're wondering what makes diamonds so special, the Latina entrepreneur explains: "Diamonds tend to be gifted on very special occasions so they carry high sentimental value. In part, because of this, they transcend time." Even though selecting a gem of such high value can come with a series of doubts and questions, Saucedo and her team are perfectly aware of what goes through the minds of most once ready to invest in fine jewelry. "We understand that investing in a diamond can seem like a daunting process, she adds. "We work hand in hand with our clients and help them navigate this process. Understanding the science behind the grading of diamonds is an essential part of the selection process. Having said that, there is also an "art" in this highly personalized process. There is no "one size fits all" when it comes to finding the right diamond."
Saucedo is always prepared to make anyone's sparkly vision a reality, and most recently, she's made her collection of bestsellers readily available through her freshly done e-commerce website. These are pieces that she has designed over the years and have become best-sellers. Most of the pieces are personalized, such as the brand's iconic Intemporel Diamond Name Bracelet ($2,250).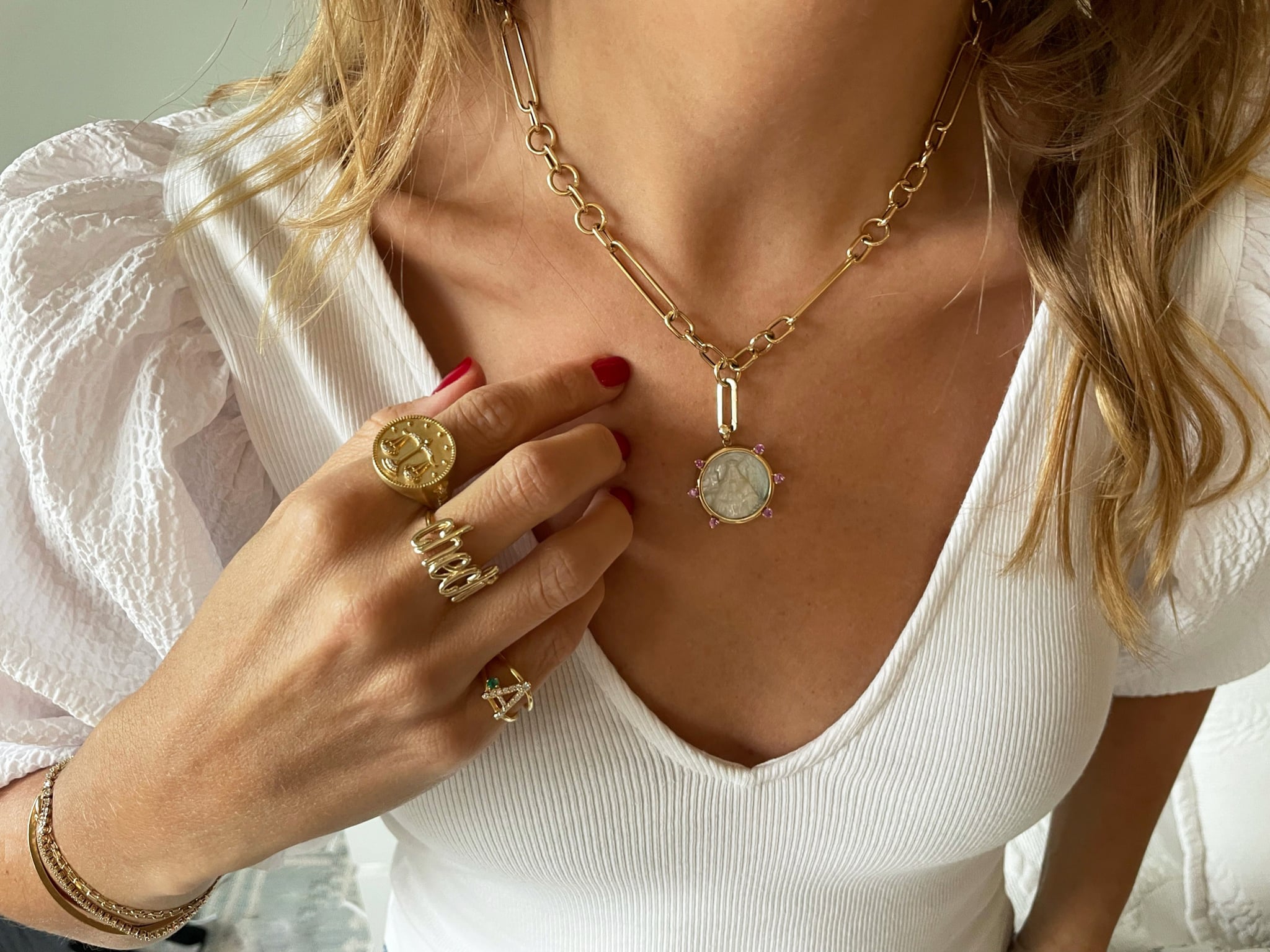 Proud of how far she has come, the jewelry expert opened up about the challenges she has met. "I have faced many challenges along the way, and overcoming them is ultimately what motivates me. As a young Latina woman with no formal connections in the space, my profile was very atypical for this industry," she shares. "The jewelry industry is mostly male-dominated and run by families that have been in the business for generations. Many transactions rely on trust, so starting out and building that trust with suppliers and dealers was extremely challenging."
Image Source: Intemporel