Posted on: March 23, 2023, 10:55h. 
Last updated on: March 23, 2023, 11:09h.
Only 16 teams remain in the 2023 NCAA men's college basketball tournament. Heading into the Sweet 16, Florida Atlantic University (FAU) and Princeton are the betting long shots on DraftKings' college basketball futures board to win the "March Madness" championship. Princeton has the longest odds in the Sweet 16 at +16000 while FAU is the second-biggest long shot to win the championship at +5000.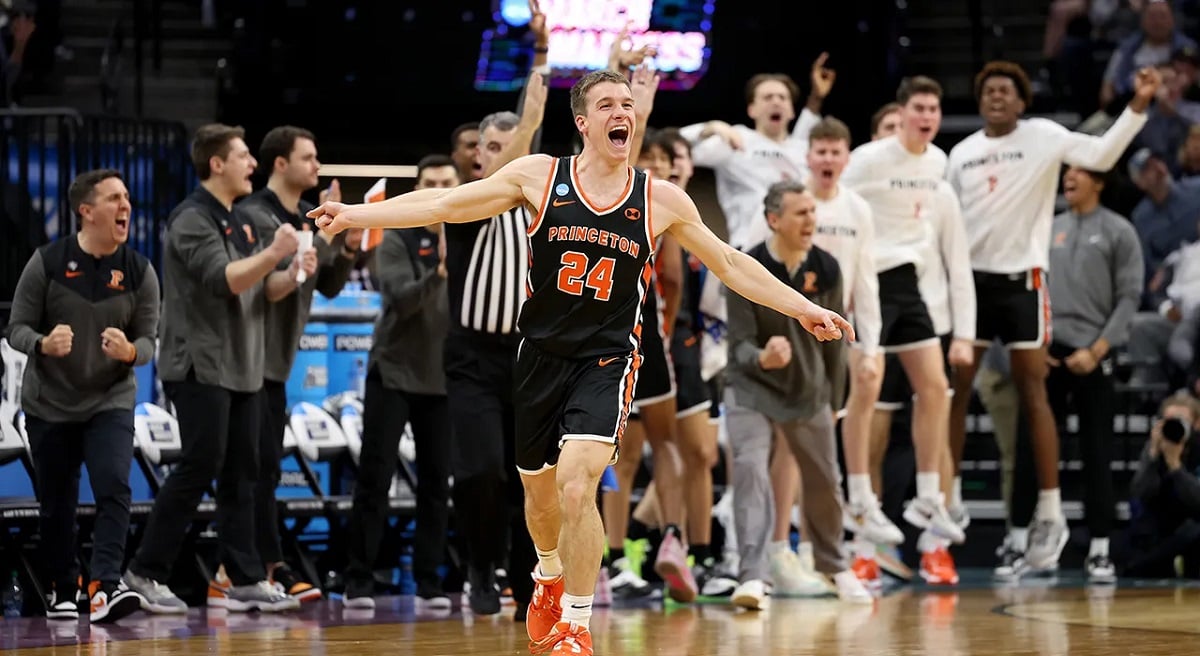 With the #9 seed, FAU squares off against #4 Tennessee on Thursday evening in the East Regional at Madison Square Garden in New York City. Tennessee is +1000 odds to win the championship, but they lost their best playmaker when point guard Zakai Zeigler tore his ACL against Arkansas earlier in the month.
Princeton has the lowest remaining seed at #15, and they meet #6 Creighton on Friday in the South Regional at the KFC Yum! Center in Louisville, Ky. Creighton is +1600 odds to win March Madness.
No team lower than a #8 seed in the tournament ever won the championship. FAU and Princeton are trying to make history as the biggest long shot to win March Madness during a year in which numerous top seeds were upset in the first two rounds.
Alabama and Houston are the only two remaining #1 seeds in the Sweet 16, and both are the betting favorites to win the championship. Alabama is the consensus favorite at +340 with Houston right behind them at +350.
UCLA and Texas are the only #2 seeds that qualified for the Sweet 16. UCLA is +800 odds to win the title and Texas is +1000 odds.
#9 FAU (33-3) vs. #4 Tennessee (25-10)
Point Spread: Tennessee -5.5
Total: 129.5 o/u
Moneyline: FAU +195 / Tennessee -210
Tip-off: Thursday 6 p.m. PT on TBS
The FAU Owls won 33 games this season, including a perfect 17-0 record on their home court in Boca Raton, Florida. They went 18-2 in Conference USA this season and won the C-USA conference tournament to secure an automatic bid to March Madness.
FAU is one of the hottest teams remaining while riding high on a nine-game winning streak. The pesky Owls only lost three games this season, and all three losses were on the road.
FAU squeaked out a 1-point victory against #8 Memphis in the opening round. In the second round, FAU squared off against #16 Fairleigh Dickinson, who stunned #1 Purdue with a first-round upset. FAU ended Fairleigh Dickinson's magical Cinderella run with a 78-70 victory, and the Owls advanced to the Sweet 16.
FAU runs a four-out offense with four guards on the perimeter and a traditional center in the paint. Sophomore guard Johnell Davis leads FAU with 13.9 points per game, and he's shooting 39% from 3-point range this season. He led all scorers with 29 points against FDU.
The Tennessee Vols blew a huge lead against #13 Louisiana in the opening round. The Ragin' Cajuns put up a good fight in the second half against Tennessee, and only lost by three points even though they were +11.5 underdogs. In the second round, Tennessee played a physical game and dominated #5 Duke in a 13-point victory.
Tennessee has a decent ranking on two popular rating sites that analyze advanced metrics. KenPom ranked Tennessee #6 in the nation, while Torvik ranked the Vols at #5. FAU earned the #21 ranking on KenPom, and Torvik ranked the Owls at #24.
#15 Princeton (23-8) vs. #6 Creighton (23-12)
Point Spread: Creighton -10
Total: 138.5 o/u
Moneyline: Princeton +410 / Creighton -510
Tip-off: Friday, 6 p.m. PT on TBS
The Princeton Tigers earned an automatic bid representing the Ivy League, and stunned #2 Arizona in the opening round. As a #15 seed, Princeton was a +16 underdog and defeated Arizona by four points.
Princeton's Cinderella run continued against #7 Missouri in the second round. Princeton was only a +6.5 underdog, but they crushed Missouri with a 15-point victory. Senior guard Ryan Langborg led all scorers with 22 points for Princeton, and sophomore guard Blake Peters added 17 points off the bench with five 3-pointers.
Princeton is anchored by senior forward Tosan Evbuomwan, who was born in Newcastle, England. As Princeton's leading scorer, Evbuomwan averages 14.8 points, 6.3 rebounds, and 4.8 assists per game. Evbuomwan scored 15 points in the first round and was the only player from Princeton to notch double digits in scoring in the upset over Arizona.
Creighton secured a spot in the Sweet 16 with two easy victories, and they covered the spread in both games. The Blue Jays defeated #11 North Carolina State by nine points in the opening round and beat #3 Baylor by nine points in the second round.
Princeton will have a tough time matching up against Creighton's frontline. Ryan Kalkbrenner, a 7-foot-1 center, averages 15.7 points per game as Creighton's leading scorer. Kalkbrenner dropped 31 points and blocked three shots in a dominating performance against NC State in the first round.
Of the remaining Sweet 16 teams, Princeton is the lowest-ranked squad on both KenPom and Torvik. Princeton earned a #91 ranking on KenPom, while Torvik ranked the Tigers at #94. KenPom ranked Creighton at #12 in the country, but the Blue Jays are ranked #13 according to Torvik.