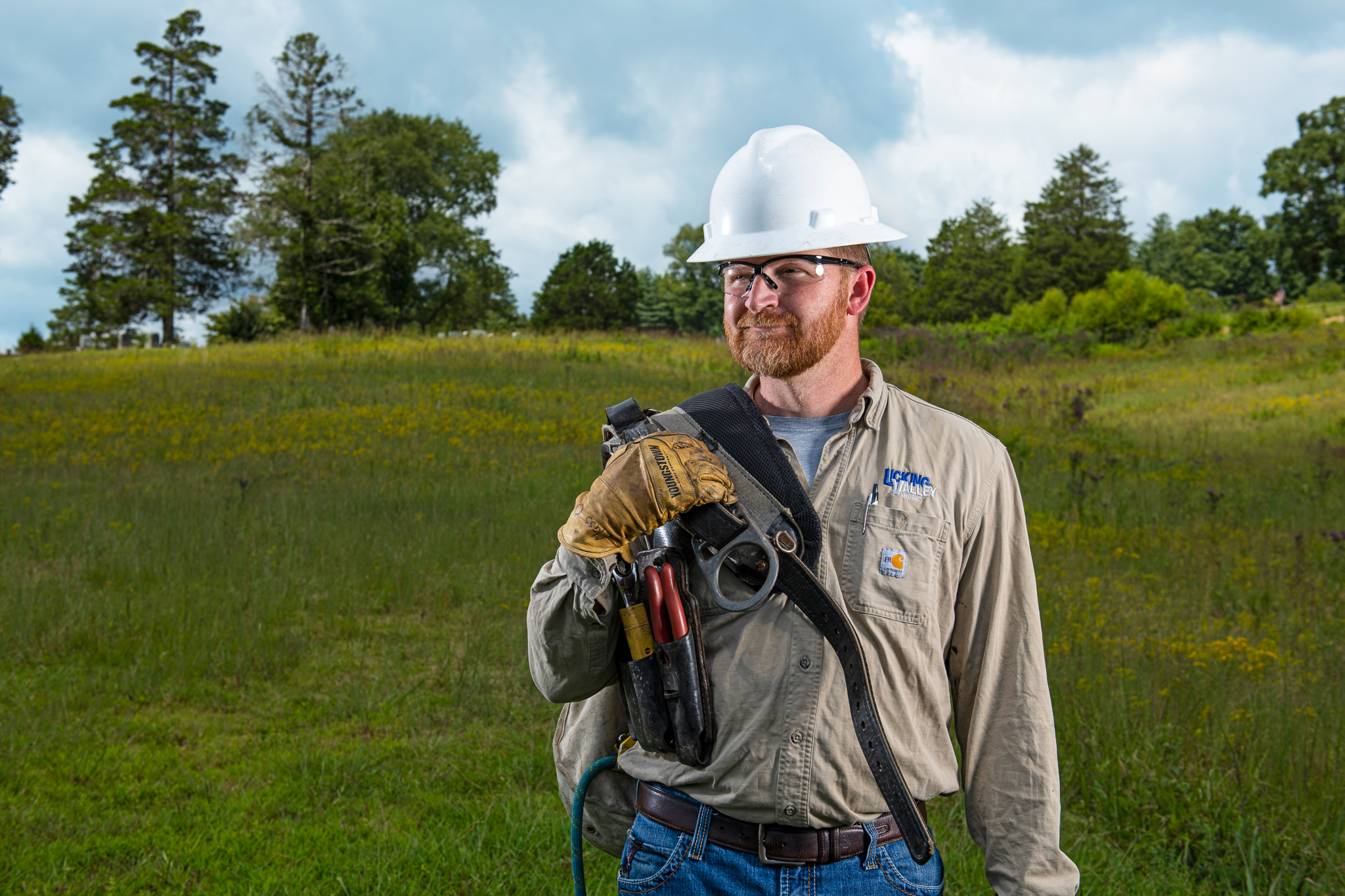 Being an electrical lineworker is one of the top 10 most dangerous jobs in the U.S. due to high-voltage power and heights. Scott Spencer, Lee City, a lineworker with Licking Valley RECC shares his story to help others stay safe. Photo: Tim Webb
Thirty feet above the ice-encrusted ground, Scott Spencer felt the wood utility pole he had just climbed give way. It was going to crash to the ground and Spencer was going down with it. 
"I had two thoughts on the way down," the veteran Licking Valley RECC lineworker recalls. "I got to get away from this pole, and this is going to hurt." 
It was February 23, 2021, eight days after the second of two devastating ice storms had downed trees and power lines across the co-op service area's rugged terrain. Spencer and his crew were working on some of the last power restorations not far from his own home in Wolfe County. 
Sitting in the cab of his work truck 18 months later, Spencer recounts the events of that day. He remembers using a hammer to check the soundness of the pole before climbing it. Once near the top, Spencer asked his crewmates to hoist the downed wire to him. 
"That's when I felt the pole," Spencer says. "It didn't crack. It didn't—it just—I felt it. And then I just—I was going …" 
The pole had broken off below ground and was falling. And Spencer was attached to it—30 feet above the ground. The very equipment designed to keep him safely anchored so he wouldn't fall off the pole was now binding him to it. 
"I was square with the pole. The main thought in my mind was, I cannot land on this pole. I have to hit the dirt. If I land chest, face against this pole, I'm done," Spencer matter-of-factly explains his life-or-death decisions in those crucial few seconds. 
Just before impact, he pushed himself to the left, sparing his torso but shattering his shoulder and shoving back the ball of his humerus behind his shoulder. His left arm had a compound fracture and the cartilage in his nose was broken. 
"I'm laying on the ground in just agonizing pain. I can't breathe because it knocked the breath out of me." 
He could hear his co-workers but couldn't answer. As one ran to the truck to call for help, two others grabbed the D-rings of Spencer's belt to slide him up and out of the water hole where he had landed. Another crew member used his hands as a makeshift neck brace to cradle Spencer's head. 
Word spread quickly and soon Spencer's father and uncle were on the scene. His mother and teenage son, Isaiah, arrived as the medical helicopter was taking off for the trauma center at UK Chandler Hospital in Lexington. 
As he looks back on that day, it's the look in his father's eyes that motivates his safety message to other lineworkers. 
"My dad's face when he stepped in the back of that ambulance was enough. I was 39 years old when this happened," Spencer pauses, "and just the look on my dad's face was sheer terror." 
"Did I make a mistake? Did I do anything wrong? Maybe," Spencer grimaces. "I checked the pole, but did I check it good enough? 
"Don't be a minimalist. It's worth that extra minute, two minutes, whatever it takes. It's worth it to go home to your family." 
It's a lesson he is living back on the job. Initially told it would be a least a year before he was able to go back to work, Spencer returned to Licking Valley RECC six months after the accident. 
"It's just the way he is," says the cooperative's general manager and CEO Kerry Howard. "Scotty is a role model to his coworkers, including myself. He shows that adversities can be overcome, that safety is of the utmost importance, and that even when all safety precautions are applied, accidents can still happen." 
"I came back to work because I truly enjoy what I do. I wanted to," Spencer says. "It was a little about proving to myself that I could still do it. Not for anybody else, but for my own peace of mind." 
Spencer credits not only doctors and physical therapists with his recovery, but the support of the cooperative family across the country, from those who sent cards, letters and food, to the young lineman who sat with Spencer at his house just in case he needed anything. 
"My wife, April, had her work cut out for her with all the calls, messages and prayers," Spencer says. "Would I have healed so quickly without the prayers? Probably not."