No. 1 at the position: David Sanders Jr. 
The Providence Day (N.C.) talent was the No. 1 overall player in the Rivals100 for the 2025 class, and he earned his fifth star in the latest update. Sanders is one of the rare offensive linemen who is a five-tool player at the position.
Already with a great frame, Sanders has that nasty streak in him as he looks to finish plays. He's athletic with a great wingspan, stonewalling pass rushers with his punch. As talented as he is now, he's only going to get better as he adds more mass to his frame and further develops his strength.
*****
Two teams to watch: Georgia and Texas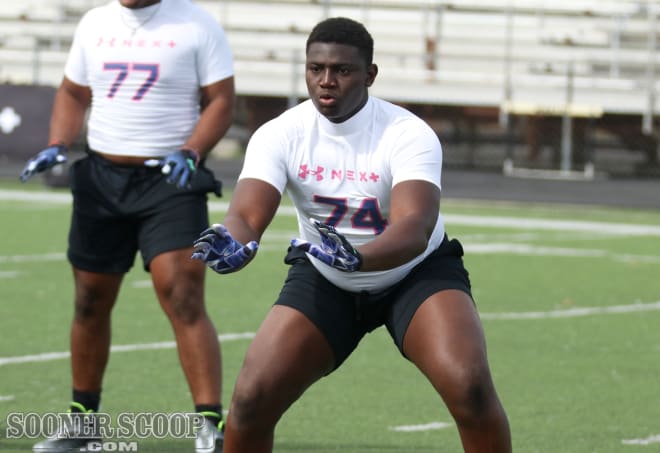 If the Bulldogs can win over the top five offensive tackles from the state of Georgia in this class, they will be set. If they need to dip into the guard position to fill the class, the Peach State has the back-to-back defending champs covered there, too. Five of the top 13 tackles hail from the state of Georgia: Brayden Jacobs, Mason Short, Peyton Joseph, Nicolai Brooks and Juan Gaston Jr. At guard, two of the top-five, Cortez Smith and Dontrell Glover, are in Georgia's backyard.
The Longhorns have been swooping up top in-state talent under head coach Steve Sarkisian, and the staff has four elite talents to target at tackle in Ty Haywood, Michael Fasusi, Logan Schram and Lamont Rogers. Tyler Thomas and Joshua Moses are names to watch as Texas courts their homegrown talents. If Texas can close on this group, it will be building a dominating force in the SEC.
*****
Three players in the spotlight: Brayden Jacobs, Chauncey Gooden, Micah Debose
Jacobs: From seeing Jacobs over the summer months at camps to 2023 offseason events, all the talent from within is coming out for the Buford High School four-star. Jacobs has an ideal frame with size at tackle and a great wingspan. The pass-pro is improving with quick feet and good lateral movement as he is able to stunt speedy ends and linebackers trying to break the pocket.
Gooden: When talking about power and strength up front, Gooden's name must be mentioned. He is the proverbial tone-setter who has been dominating Tennessee defenses for Lipscomb Academy. Gooden is athletic enough to have earned some carries out of the backfield, and he was used as an H-back. As a lineman, there may not be a better finisher in the group. He just racks up knockdowns and pancakes.
Debose: He may get out over those toes a bit, but the pad level is solid for a big man and the punch would knock over a telephone pole. Debose is fantastic with his arms as he uses a quick strike to knock defenders down and then immediately looks for the next opponent to flatten. With his pass-pro, the long arms get great extension keeping the pocket clean and his down blocking takes out rows of defenders.