Posted on: January 24, 2023, 07:02h. 
Last updated on: January 24, 2023, 07:02h.
LeBron James from the Los Angeles Lakers needs only 224 more points to pass Kareem Abdul-Jabbar for the all-time NBA scoring record, and needs approximately nine games to achieve the epic feat. DraftKings has a prop bet where you can wager on which opponent and date James will set the new scoring record.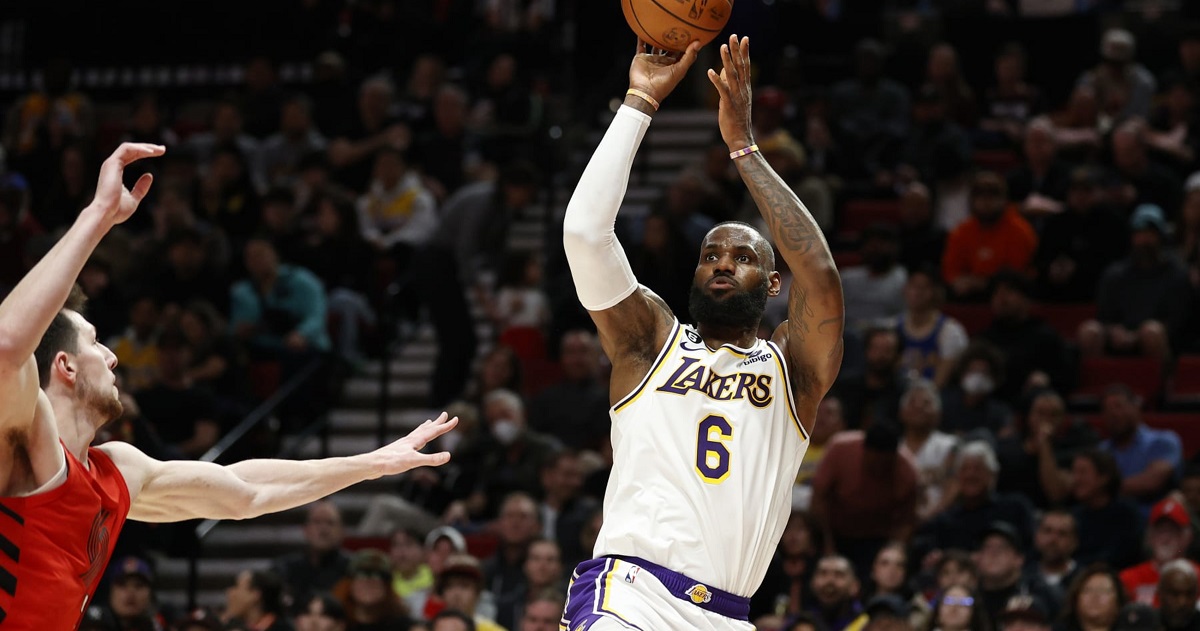 James, playing in his 20th season, scored 38,164 points in 1,403 games.
If James maintains his current career scoring average of 27.2 points per game, he will set the new NBA scoring record in a home game against the Milwaukee Bucks on Feb. 9. You can place a prop bet on DraftKings that James will break the scoring record during the Lakers/Bucks game on Feb. 9, which pays out +180 odds.
Of course, injuries could slow down James' pursuit of the scoring record. He has had fair share of injuries as a member of the Lakers by missing 95 games over the last five seasons. He missed 27 games in 2018-19, five games in 2019-20, 27 games in 2020-21, 26 games in 2021-22, and ten games this season.
Head coach Darvin Ham could also rest James due to load management with two upcoming back-to-back games. The Lakers play the Los Angeles Clippers and San Antonio Spurs this week in consecutive nights. On next Monday and Tuesday, the Lakers play back-to-back games in the Big Apple versus the Brooklyn Nets and New York Knicks in consecutive nights.
LeBron Chasing Kareem and the Sky Hook
Abdul-Jabbar holds the all-time scoring record with 38,387 points, which took him 1,560 games spanning 20 seasons in the NBA. Abdul-Jabbar perfected the sky hook which was impossible to defend against the 7-foot-2 Hall of Fame center.
Wilt Chamberlain held the previous record with 31,419 points before Abdul-Jabbar passed him on April 5, 1984 while playing for the Los Angeles Lakers. Abdul-Jabbar played five more seasons with the Lakers before he retired at the end of the 1988-89 season and set the all-time record at 38,387 points.
It took 34 years, but someone will finally catch Abdul-Jabbar.
Abdul-Jabbar only attempted 18 3-pointers in his career, and he connected on just one. Abdul-Jabbar knocked down 6,712 free throws and 15,837 total baskets during his career for 38,387 points.
Abdul-Jabbar spent the first six seasons of his career with the Milwaukee Bucks, before playing 14 seasons with the Los Angeles Lakers. In six seasons with the Bucks, Abdul-Jabbar scored 14,211 points and averaged 30.4 points per game. In 14 seasons with the Lakers, Abdul-Jabbar averaged 22.1 points per game.
James scored 7,126 points in 260 games as a member of the Lakers, while averaging 27.4 points per game. He scored 7,919 points in 294 games during four seasons with the Miami Heat, while averaging 26.9 points per game. He also spent two stints with the Cleveland Cavs. In 11 total seasons with the Cavs, he scored 23,119 points in 849 games, while averaging 27.2 points per game.
Will LeBron Break the Scoring Record on Feb. 9?
James would like to break the record at home in Los Angeles, so there are two games of note prior to the All-Star Break. The Milwaukee Bucks on Feb. 9 offer up the shortest odds at +180, followed by the Oklahoma City Thunder the previous game on Feb. 7.
| | |
| --- | --- |
| DATE AND OPPONENT | ODDS TO BREAK RECORD |
| 24 JAN vs LA Clippers | N/A |
| 25 JAN vs San Antonio Spurs | N/A |
| 28 JAN at Boston Celtics | N/A |
| 30 JAN at Brooklyn Nets | +5000 |
| 31 JAN at New York Knicks | +8000 |
| 2 FEB at Indiana Pacers | +1200 |
| 4 FEB at New Orleans Pelicans | +370 |
| 7 FEB vs Oklahoma City Thunder | +200 |
| 9 FEB vs Milwaukee Bucks | +180 |
| 11 FEB at Golden State Warriors | +270 |
| 13 FEB at Portland Trail Blazers | +500 |
| 15 FEB vs New Orleans Pelicans | +1000 |
| 23 FEB vs Golden State Warriors | +2500 |
| 26 FEB at Dallas Mavericks | +6000 |
| 28 FEB at Memphis Grizzlies or Later | +1800 |
If it takes James ten or more games to break the record, the Lakers play at the Golden State Warriors on Feb. 11, which is +270 odds. The next game after that is against the Portland Trail Blazers on Feb. 13, which is +500 odds. The Lakers host one more home game before the All-Star Break against the New Orleans Pelicans on Feb. 15, which is +1000 odds.
The All-Star Break begin on Thursday Feb. 16, and the Lakers do not play again until Feb. 23 when they host the Warriors.
The Lakers (22-25) are currently in last place in the Pacific Division and on the Western Conference playoff bubble, but at least fans have something to root for in the next couple of weeks.