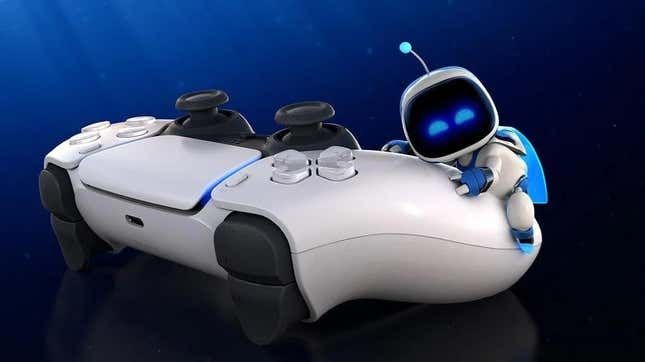 Sony keeps saying that "play has no limits," and a researcher just proved the company right. A robot controlled with a PlayStation 5 DualSense controller managed to inject human sperm into human eggs and the resulting babies were just recently born. It's all part of an attempt to make in vitro fertilization [IVF] easier and more affordable.
Let's Talk About Gotham Knights' Predictable Ending
The MIT Technology Review reports that the experiment took place at the New Hope Fertility Center in New York, NY. Researchers were using a sperm robot made by a startup called Overture Life to fertilize some eggs. They apparently decided to sync it with a PS5 DualSense which then allowed someone "with no real experience" to look through a microscopic camera, move the robotic needle, and successfully deposited single sperm into several eggs. Two baby girls have reportedly now been born from the process, which Overture claims are the first fertilizations via sperm bot.
"I was calm," Eduard Alba, the mechanical engineering student who piloted the DualSense, told MIT Technology Review. "In that exact moment, I thought, 'It's just one more experiment.'"
The DualSense-controlled sperm bots are one of a series of experimental procedures currently being explored in order to try and make IVF more accessible for would-be parents. Traditional treatments can cost tens of thousands for each attempt and require lots of different steps and equipment. Overture told MIT Technology Review it envisions a future where the entire procedure could take place inside an automated box "where sperm and eggs go in, and an embryo comes out five days later."
Other specialists are less optimistic, noting the precision and care needed for IVF and the risky outcomes if everything isn't exactly right. "You pick up a sperm, put it in an egg with minimal trauma, as delicately as possible," Zev Williams, director of Columbia University's fertility clinic, told MIT Technology Review. "For now, "humans are far better than a machine."
Sounds like someone who's never felt the impressive rumble and unparalleled haptics of Sony's latest video game controller. PS5 players have finessed Sony's lovable Astro Bot through countless puzzles and quirky platforming levels. How hard could creating life be?
Fortunately for the parents who signed up for IVF at the New Hope Fertility Center, it sounds like the DualSense controller the engineering student used didn't suffer from any thumbstick drift.