It could not have played out more perfectly for Mark Stoops.
On Sept. 10 in Gainesville, his Kentucky team took down SEC rival Florida to push Stoops past Paul "Bear" Bryant as the winningest coach in Kentucky history.
One week later, the stars aligned for the celebration as Stoops' entire family joined him back at Kroger Field in Lexington for a brief ceremony ahead of the noon kickoff. The opponent? None other than Youngstown State, hometown for the entire Stoops clan.
"I would be lying if I said it didn't mean something. It does mean something," Stoops said back in June. "I want my mother to be there and for her to have two sons who are the all-time winningest coaches at their respective programs in the Power Five. That would mean something and I would like my mother to see that. I want her to enjoy that."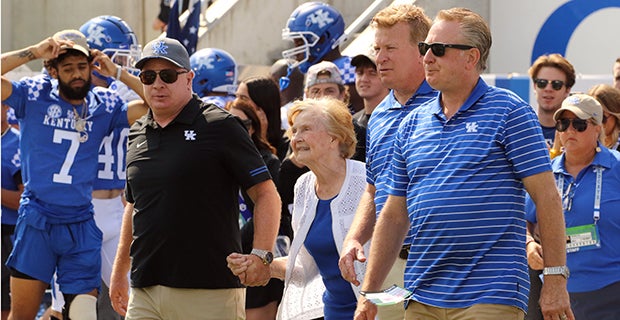 Did she ever. Dee Stoops was centerstage with her family as they were washed in a joyous cheer from nearly 56,000 fans in the stadium.
"I really appreciate that and the administration doing that acknowledgment and having my mother there and my brother, Bob, and all my sisters, my brothers, everybody. It was really nice. It was fun. Great day. Great weekend."
With the 31-0 victory, a perfect subplot as its the first shutout in the 10-year UK career of the defensive-minded head coach, Stoops now has 62 wins.
Dee Stoops' second son, Bob, tops Oklahoma's list with 190 wins, easily eclipsing Sooner legends Barry Switzer and Bud Wilkinson.
"We're all proud of the great run that Bob had to be the all-time winningest coach at Oklahoma and for me to be the all-time winningest coach at Kentucky – out of respect for my mother and my father and the tradition of the family business – it means something to me more for that."
Just as quickly as he celebrated, however, Stoops moved on to the task at hand.
"I'm glad it's all behind us now," Stoops said after the game. "I'm really concentrating to move on to the next games."
The win over Youngstown moves No. 9 Kentucky to 3-0 on the season with Northern Illinois remaining before a long stretch of SEC games begins Oct. 1 at Ole Miss.
"Being the all-time winningest coach wasn't a goal I set out to accomplish, that's not our primary goal," Stoops said. "Our goal is to get to Atlanta and win. When I said that when I first got here it was kind of a laughingstock, was it not? Now when I say that, people know I mean it. I don't get laughed at. That's the respect we're gaining as a program."