'Community threat' forces hours-long 'soft lockdown' for Eminence Independent Schools | News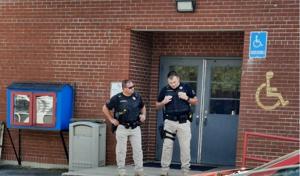 LOUISVILLE, Ky. (WDRB) — Eminence Independent Schools delayed dismissal of students Thursday because of a "community threat," and many students ended up in the building until after 7 p.m.
The Henry County, Kentucky, school has been on a "soft lockdown," meaning doors are locked and no one is coming or going from the building, Superintendent Buddy Berry said. Dismissal was delayed for both students who go home on buses and car riders.
Berry said the threat was not within the school building, and all students and staff are safe. Eminence Independent Schools has one building for all grades, which is nearly 1,000 students.
After hours of waiting, Berry  sent a voicemail to parents at 6:44 p.m. stating that students would be beginning to be released shortly. Another voicemail sent to parents just after 9:20 p.m. said school would not be in session Friday, and all teacher and staff would have the day off.
"At about 3:15 today, we were made aware of a potential threat that caused us to go into our lockdown procedures," Berry said in the voicemail. "At that time, thanks tot he quick action of our school resources officer, police officers from multiple agencies were deployed to the school. These officers took control of the situation, and we acted in accordance with their direction.
"Police will release a more detailed statement at a later time."
Someone who answered the phone Thursday afternoon at Eminence City Hall said it was "a threat of violence," but she would not give further details. Calls to the mayor and other officials have not been returned.
Copyright 2021 WDRB Media. All Rights Reserved.